Email info@mczimmervermietung.de
Telefon ++49/2246/9111219
room for workers Cologne flats
Are you looking for fitters rooms for your workers in Germany?
Our houses are in Bonn and in fitter sroom Troisdorf in the south of room for workers Cologne
In North Rhine Westphalia (in German Fitters room Nordrhine-Westphalia) we offer rooms, accommodating at least 3 people, all over Germany up to 200 workers.

From 330 per guest and month we offer your domestic and foreign technicians a good accomodation Dusseldorf, rooms Grevenbroich, Flats Wesseling, Flats Monchengladbach You may choose between 45 ap. just in Cologne . near the airport, near the fair or near the city and many other cities.

1444 Mietgesuche heute
room for workers Dusseldorf accomodation
| | | |
| --- | --- | --- |
| | | |
| Fitter's room Dusseldorf | Fitter accommodation Dusseldorf | Fitter's room Dusseldorf |
Often we have in more as 100 cities a possibility directly or next to the centre. Here your workers may use public transport.
or you take a flat 20km away, then it's cheaper, e.g. the cheap proposition is fitters room Krefeld.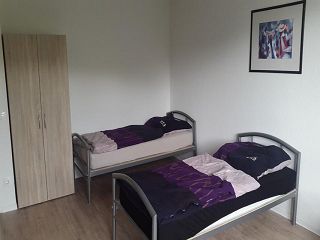 Fitter accommodation Dusseldorf
We have guest rooms Wiesbaden, apartment for craftsmen Mönchengladbach, staff rooms Gelsenkirchen and accommodation for fitters Braunshweig.
fitters room Hamburg flats
For Frankfurt it will be Rooms in Darmstadt.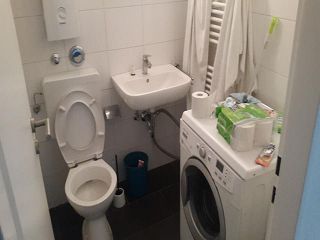 Fitter accommodation Dusseldorf
We have apartment for craftsmen Bielefeld, staff rooms Münster, accommodation for fitters Karlsruhe and apartments for fitters Augsburg.
The minimum rental term to companies is 1500€ rent, because of this reason our rent is really, really low.
With us you'll save money and time, which you may use for something else.

So if you need rooms for your technicians in many major German cities likerooms Frankfurt, Rooms in Bremen and Hundreds of other cities and towns, we're the right partners for you.
Important for you:
To the honour of Queen Elizabeth II
We charge you no commission, no fee!!
We'offer you fitters room, th German name is Monteurzimmer, throughout Germany for work in domestic and foreign companies.
Therefore we arrange accommodation, beds, registration depending on your needs. We know precisely what distinguishes a good Relocator.

| | | |
| --- | --- | --- |
| | | |
| Fitter's room in Frankfurt | Fitter's apartment in Frankfurt | Fitter's apartment in Frankfurt |
We have accommodaitioin for fitters Hannover, apartments for fitters Nürnberg, accommodation for workers Bochum and guest rooms Wuppertal.
fitters room Berlin flats
In cities likefitters room Berlin orflat Hamburg, Hostel Frankfurt, room for workers Stuttgart or flats in Munich we have a wide range of opportunities for your workers: from cheap and central locations in the city to relaxing apartments at the boarder of these cities.

We will register your foreign staff at the registration office and trade office.

It is for the workers from EU countries, including Romania and Bulgaria, other rules than for Croats, Serbs, Ukrainians, American or Swiss, etc.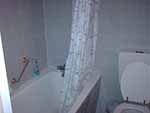 Fitter's apartment in Frankfurt
From 20 € per person and registration of EU citizens (European Union) we deliver you everything you need free of charge.
For your staff outside the EU, we do this work at cost.

We deliver complete: included mail box sign for the post of authority for up to 200 people.
We may do that service in about 20 cities between apartment Bad Honnef and room for workers Duisburg and in other cities like flats in Freiburg ,house in Mannheim , etc.

We have rooms for workers Leipzig, guest rooms Dortmund, apartment for craftsmen Essen and staff rooms Dresden.
Cheap apartmentsBonn accomodation flats
Here you may rent a complete house from us with 2,5 floors and in total 5 rooms.
It's directly in the heart of
apartments Bonn Bad Godesberg
, next to the Saudi Arabian school, a mosq and many supermarkets and embassies.
Cheap apartments Duisburg dormitory Munich accomodation flats
Route discription:
Boardinghouse and administration for Monteurzimmer
If you come by car ...
from the highway A4, A1 from fitters rooms Aachen :
Go sit on the A4/E40 towards Köln, then the ramp to A3/E35 in
Frankfurt,
/ Main. Take the exit towards Roesrath /
fitters room Lohmar
-Nord exit.
Then turn to the right and head toward Sülztalstraße A3/ direction
rooms Siegburg
.
Go on more on L288 for about 1 km.
go on more on creek road, then continue on the L288 for about 1.5 km. Then turn right onto Flughafenstraße. Follow the road for about 1 km.
Your destination> Flughafen Straße 61
from the A3 from Frankfurt,:
Take the exit towards Roesrath North.
On the left side onto the ramp to the L288. Turn left onto L288 and follow the road for about 1 km.
Then turn left onto Flughafenstraße. Follow the road for about 1 km.
Your destination> Flughafenstraße 63
Hopefully these directions will help you find us better and more convenient. Welcome to Mc Zimmervermnietung. We wish you a pleasant arrival and stay in
rooms Troisdorf
.
By public transport.
Go to the main train station in Bonn, even better to Cologne.
There you shall use the S-Bahn (S-train) to the main-station in Troisdorf (takes about 20 minutes from each city)
There, on the bus, towards Altenrath (currently No. 506, but the best check on the spot) which lasts about 15 minutes.
Get off at Altenrath (2. stop), take the right of the roundabout, turn into the airport road (Flughafenstraße) and walk 100 meters. Our houses are then on your left.
Here you have the boardinghouse if you stay there for minimum two months. The tool workers /craftsmen houses for a shorter stay are in Koln .
Here you may choose between the areas Porz Urbach
rooms Cologne Weidenpesch
and city,
Boardinghouse Cologne Ehrenfeld
(next to the university)
Our boardinghouse
boardinghouses in Düsseldorf
,
fitters room Bergheim
,
Monteurzimmer Solingen
and more cities will be organized as well from here.